Berkshire Hathaway (BRK.A) (BRK.B) had a relatively quiet quarter. The main news in the third quarter earnings report was the repurchase of approximately 45 million Class B equivalent shares for $9.3 billion, as well as a slight 4% reduction in Apple's stake. (AAPL).
I was thrilled to see Berkshire finally repurchase a meaningful amount of stock, and I will be taking a close look at Berkshire's repurchase activity in December when shares traded in the $220-230 range to understand the willingness of Berkshire to continue to repurchase near current prices.
Fourth Quarter Holdings Update
The value of Berkshire's investments in non-Kraft Heinz (NASDAQ:KHC) equity securities has risen 13.3% to $259.6 billion from ~$229 billion last quarter. The majority of the gain came from Apple, but financials were also strong.
From the gain of approximately $30.6 billion, after increasing the future tax liability on the balance sheet as "income taxes, primarily deferred" and subtracting 21%, we see a net book value gain of $24.2 billion for the second quarter.
Some interesting moves in the last quarter:
Reduction of Apple's stake by approximately 4%.
Sold Costco's small stake (COST) for $1.5 billion.
Addition of a basket of pharmaceutical companies: $2.3 billion from AbbVie (ABBV), $1.8 billion from Bristol-Myers Squibb (BMY), $1.8 billion from Merck (MRK) and a $137 million smaller position in Pfizer (PFE).
It's not a recent move, but Berkshire still owns 225 million shares of Chinese electric vehicle maker BYD Company (OTCPK:BYDDY) that it bought in 2008 for $1/share. That stake has actually grown to $13 billion to date! Unfortunately, BYD is trading lightly and it is unlikely that Berkshire could sell a significant amount without significantly affecting the price.
70% of the portfolio is still concentrated in four companies: American Express (NYSE: AXP) at $18.3 billion, Apple (AAPL) at $128.1 billion, Bank of America (NYSE: BAC) at 31.3 billion and Coca-Cola (NYSE: KO) at $22 billion.
Fourth quarter operating profit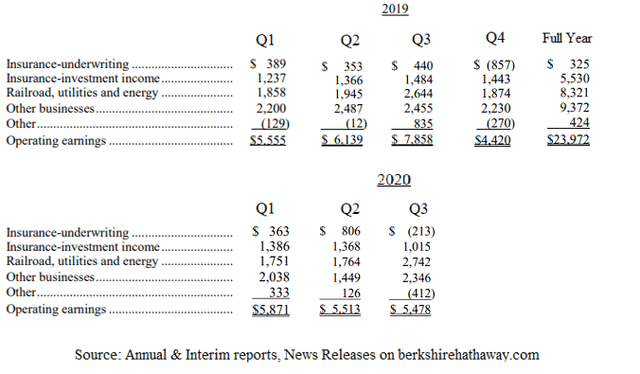 With most of the economy still open in the fourth quarter, we should see continued improvement in Berkshire's business.
Underwriting insurance should produce a small loss as in the last quarter. GEICO's $2.5 billion refund to policyholders that boosted second-quarter earnings will continue to be a drag through the first quarter of 2021, and an active hurricane and wildfire season will likely lead to losses in damages.
I will estimate a $250 million underwriting loss, similar to last quarter.
Investment insurance income should happen $1 billionsignificantly lower than a year ago as short-term Treasuries rates fell and Berkshire sold high-yielding stocks like JP Morgan (JPM).
Rail, Utilities and Energy should show a slight gain over last year. Rail volumes at BNSF finally rose in the fourth quarter, up 2.4% year-to-date quarter-to-date, while continued investment at BHE should improve results. The majority of the deal with Dominion was completed in early November, which should also provide a bit of a tailwind.
I estimate $2 billion of this group's profits, up from last year, but down sequentially due to the seasonality of these activities.
Other companies containing dozens of companies like Precision Castparts, Lubrizol, Marmon and other industrial companies are expected to show a continued rebound in the fourth quarter.
I will estimate $2 billion of the group's operating profit.
"Otheris expected to produce a loss of approximately $250 million. Equity earnings from Kraft Heinz and others will offset typical expenses (primarily amortization of past acquisitions) and foreign exchange losses in this category.
In total, I expect fourth quarter operating profit to be around $4.5 billion.
Current book value
As reported in Berkshire's 2020 Q3 10-Q, book value as of September 30, 2020 was $415.2 billion.
Adding the $24.2 billion net gain from equity investments and adding $4.5 billion to operating profit, I project the Q4-20 book value to $443.9 billion.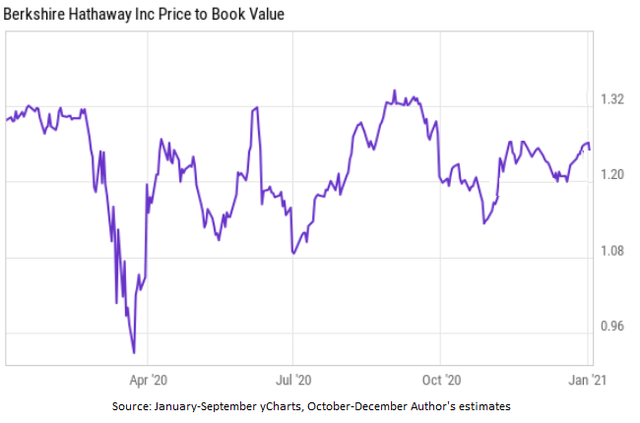 Berkshire's market capitalization as of December 31 was $551.7 billion. Dividing that by $443.9 billion yields a price/book value of 1.24x for Q4.
Outlook and recommendations for 2021
2020 marks another disappointing year for Berkshire Hathaway, as it underperformed the S&P500 by more than 16%. It's been particularly painful since Apple, Berkshire's largest position, is up 80% this year. Without Apple, Berkshire would surely have underperformed by 25% or more.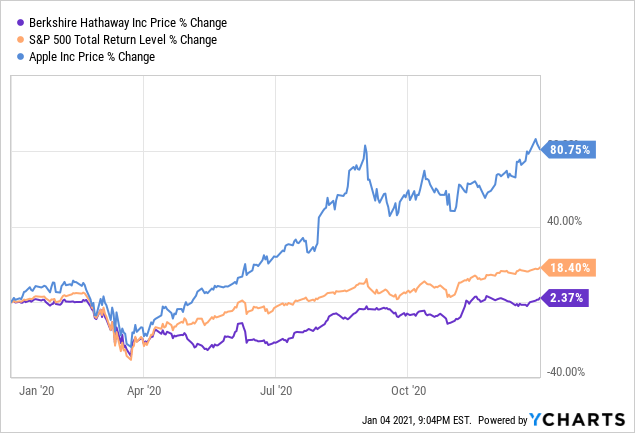 But it was more than just a stock price underperformance. It was a commercial underperformance. There were commission errors, like the airlines selling off at April lows (the US Global Jets (JETS) ETF has since risen 80%.) But more disappointing were errors of omission, procurement nothing after the March sale, despite holding $150 billion in cash.
I continue to hold Berkshire as an important and safe part of my portfolio, but I don't add and can write call options against my stake. Berkshire faces several headwinds in 2021, and at $230 the stock just isn't that cheap.
At $230, Berkshire just isn't that cheap
I know this is a departure from many bullish authors on SA, but I run the numbers and think Berkshire is, at best, slightly undervalued.
Berkshire made $24 billion in operating profit in 2019 and is expected to earn around $21 billion in 2020. If we add retained earnings from the equity book to around $6 billion this year, Berkshire is trading to a ~20x P/E.
Although I expect Berkshire's operating activities to recover next year, the company faces two major headwinds:
A potential increase in the corporate tax rate from 21% to 28% will create a Operating profit of $1.7 billion and decrease book value by $22 billion (Since income taxes, mostly deferred, would increase from $67 billion to $89 billion.) This tax increase would make the price/book value 1.31x compared to the current 1.24x.
Lower interest rates on $150 billion in treasury bills and cash equivalents, coupled with reduced dividend income from the sale of higher-yielding bank stocks, is currently -$562 million dollars per quarter, i.e. a Headwind of $2.2 billion a year against 2019.
For the sake of discussion, let's say the corporate tax rate hike doesn't happen and Berkshire can bring operating performance back to 2019 levels. while absorb the $2.2 billion interest rate/dividend headwind (not a trivial task.)
If that happens, an optimistic operating profit estimate of $24 billion + $7 billion in retained earnings from equity positions puts them at a P/E of around 18x for FY21.
Reasonably valued? Yes. But cheap? Not in my book.