Berkshire Hathaway (NYSE:BRK.A) (NYSE: BRK.B) finally seems to be getting the respect it deserves. Berkshire rose 18% in the first quarter, significantly beating the S&P 500 which fell 4.6%.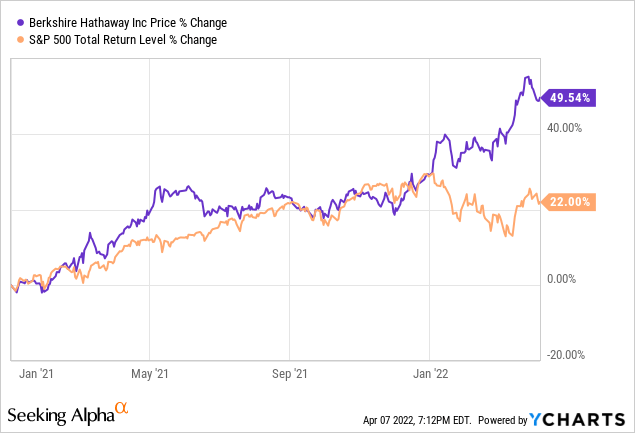 More impressive, he jumped so much without much help from its equity holdings, which rose less than 1%.
Q1 holdings update
The value of Berkshire's investments in equity securities excluding Kraft Heinz (KHC) rose less than 1% to $337.2 billion from $334.5 billion last quarter, strength from Occidental (OXY), Chevron (CVX) and American Express (AXP) offsetting the weakness. Apple (AAPL) and Bank of America (BAC). It's a good performance for Berkshire's portfolio with the S&P 500 down almost 5%.
From the gain of $2.7 billion, after increasing the future tax liability on the balance sheet as "income taxes, primarily deferred" and subtracting 21%, we see a net book value gain of 2 .2 billion for the first quarter.
First quarter operating profit
Insurance underwriting should produce a gain. Continued claims from Hurricanes Ida and Harvey should be made, auto claims may have decreased slightly as Omicron extended work from home and slowed travel.
I will estimate a $650 million gain for this quarter.
Insurance investment income should happen $1.25 billion. The billion-dollar headwind on short-term debt will now be a tailwind. Investment income is expected to rise steadily this year as the $147 billion in cash will yield more in the coming quarters.
Rail, Utilities and Energy should show gains over last year. Rail volumes to BNSF intermodal railcars are down slightly and the first quarter is one of the weakest seasonal periods for BHE.
I estimate $2 billion in the income of this group.
Other companies containing dozens of companies like Precision Castparts, Lubrizol, Marmon and other industrial companies, should continue to post gains, although I expect supply chain disruptions and higher prices of raw materials are again affecting profitability this quarter.
I will estimate $2.5 billion income again from this group.
Other should produce a Gain of 500 million dollars as equity gains from Kraft Heinz and Pilot, along with the continued strength of the U.S. dollar, offset the usual expenses (mainly amortization of past acquisitions.)
In total, I expect first quarter operating profit to be around $6.9 billion.
Current book value
As shown in Berkshire's 2021 10-K book value as of December 31, 2021, it was $506.2 billion.
Adding the $2.2 billion net gain from equity investments to $6.9 billion in operating profit, I project the Q1-22 book value to $515.3 billion.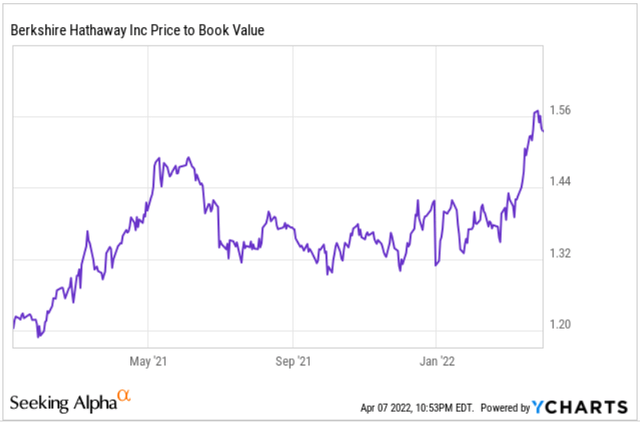 Berkshire's market capitalization as of March 31 was $780 billion. Dividing that by $515.3 billion yields a price/book value of 1.51x for Q1.
2022 Outlook and Recommendations – Forecasting a Berkshire Dividend Over the Next 12 Months
Late last year I pointed out that Berkshire had traded around 1.5 times the pound for much of 2017-19 and that we might be back to that range in 2022. didn't take long – we're already there.
I also had long suspected that Buffett would have preferred to buy back a lot more than he was doing, but he ran into limits based on Berkshire's relatively low trading volume and the "diamond" nature of many long-time owners. Buffett confirmed my suspicions in the annual report.
Over the past two years, we have therefore repurchased 9% of the shares that were outstanding at the end of 2019 for a total cost of $51.7 billion. This spending has left our permanent shareholders owning about 10% more of all Berkshire companies, whether wholly owned (like BNSF and GEICO) or partially owned (like Coca-Cola and Moody's).

I want to emphasize that for the Berkshire takeovers to make sense, our actions must offer appropriate value. We don't want to overpay other companies' stocks, and it would destroy value if we were to overpay when we buy Berkshire. As of February 23, 2022, year-to-date, we have repurchased additional shares at a cost of $1.2 billion. Our appetite remains great but will always remain dependent on prices. It should be noted that Berkshire's takeover opportunities are limited due to its high profile investor base.
Berkshire has confirmed that they are very keen on repurchasing at 1.3x book value, but I don't know how they will feel at 1.5x book value. Note again the following comment
As of February 23, 2022, year-to-date, we have repurchased additional shares at a cost of $1.2 billion.
$1.2 billion in 7 weeks is a deceleration from the previous pace, and in those 7 weeks the stock was below $310. It's $346 now. It may not be a level at which Berkshire will completely stop buybacks, but Berkshire is certainly closer to full value now than it was last year. I suspect we are close to the ceiling for redemptions.
Perhaps the broader market will decline and Berkshire will use its cash. In recent weeks, Berkshire has spent $4.2 billion in HP shares (HPQ) and $11.7 to acquire Alleghany (Y), as well as more Occidental (OXY). But barring that or a significant drop in Berkshire's value, I think Buffett might finally consider throwing a small dividend.
Time will tell us. As a long-term owner, I have mixed feelings about the recent surge in the stock price, as I was a big proponent of buyouts. Looking forward to Buffett's outlook at April 30 shareholder meetingandwhere I'm sure it will be a topic of discussion.